The Placental Histotherapy Center "Dr. Carlos Manuel Miyares Cao" (HISPLACEN) is a company belonging to the Group of Biotechnological and Pharmaceutical Industries, abbreviated BioCubaFarma. Founded on April 25, 1986, its corporate purpose is to research, develop, produce and market medicines, cosmetics, nutrients and diagnostics of biological origin, from the human placenta, natural and biotechnological products, as well as provide medical services.

Products of natural origin with high efficacy and suitable for use in children and adults.
BRANDS OF OUR PRODUCTS
DRUGS, COSMETICS AND NUTRIENT EXTRACTED FROM HUMAN PLACENTA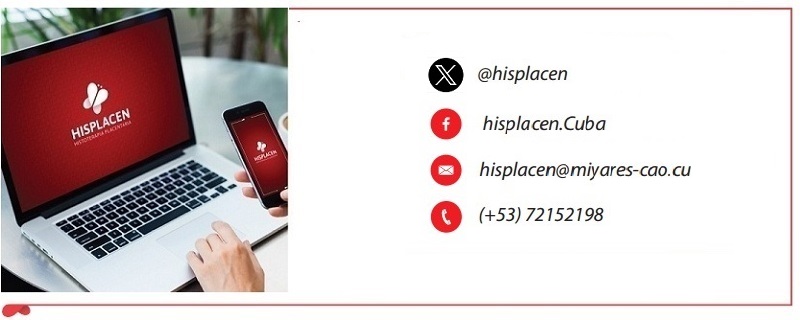 NEW HISPLACEN PUBLICATION
Amino Acid Composition of Melagenin Plus®


GENERAL MANAGEMENT
1414, 43 th st, Miramar. Playa. Havana. Cuba.
Phone: (537) 72152198
E-mail: hisplacen@miyares-cao.cu
Follow us
HISPLACEN Newsletter
If you want to know our latest scientific-technical results and other news corresponding to 2022, we suggest you download Bulletin Number 1 of 2023 "We continue to grow".
Placental Histotherapy Center "Dr. Carlos Manuel Miyares Cao".
All rights reserved. 2022